Beads (玉, Tama), also known as Balls or Gems, are small objects that all Eight Dog Warriors were born with. They have different colors and kanji on them.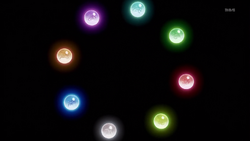 Kō (孝) - devotion, filial piety
Holder: Shino Inuzuka
Gi (義) - duty, obligation, righteousness
Holder: Sosuke Inukawa
Shin (信) - faith and integrity
Holder: Genpachi Inukai
Tei (悌) - brotherhood, brotherly affection
Holder: Kobungo Inuta
Holder: Dosetsu Inuyama
Holder: Keno Inusaka
Rei (礼) - etiquette, courtesy, gratitude
Holder: Daikaku Inumura
Jin (仁) - benevolence, sympathy
Holder: Shinobu Inue
Shinobu's bead and his name are written with the same kanji, 仁. Jin is also the greatest and most perfect virtue of all, according to Confucianism, so the holder of this bead should be the most powerful as well.[1]
References
Edit
Ad blocker interference detected!
Wikia is a free-to-use site that makes money from advertising. We have a modified experience for viewers using ad blockers

Wikia is not accessible if you've made further modifications. Remove the custom ad blocker rule(s) and the page will load as expected.