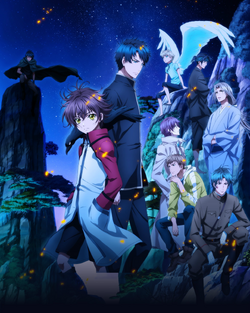 HAKKENDEN : Tōhō Hakken Ibun has been adapted into anime by Studio DEEN. It premiered on MBS on January 5, 2013. The series is directed by Mitsue Yamazaki, with Osamu Yamazaki as Chief Director. The anime has been licensed by Sentai Filmworks in North America. The series had been obtained by Crunchyroll for online streaming in North America. Season 2 began airing on July 7, 2013.
List of Episodes
Edit
Main article: List of Episodes
Original Creator: Miyuki Abe
Chief Director: Osamu Yamasaki
Director: Mitsue Yamazaki
Series Composition: Mitsue Yamazaki, Osamu Yamasaki
Script: Mitsue Yamazaki, Osamu Yamasaki
Storyboard: Masami Obari
Unit Director: Masami Obari
Music: Hitomi Kuroishi
Character Design: Hiromi Kato
Sound Director: Hozumi Gōda
Producer: Atsushi Iwasaki (Frontier Works); Keiichi Matsuda (Studio DEEN); Kozue Kananiwa (MOVIC); Masakatsu Oomuro (Dax Production); Natsuki Uetake (Sony PCL); Yukie Iwashita (Lantis); Yuko Soen (Bandai Visual)
Key Animation: Atsushi Saito; Ken Ootsuka; Masahiro Yamane, Masami Obari (Uncredited)
1st opening theme: God FATE by Faylan
1st ending theme: String of pain by Tetsuya Kakihara
2nd opening theme: wonder fang by Faylan
2nd ending theme: Souai Calendula by Ceui
Ad blocker interference detected!
Wikia is a free-to-use site that makes money from advertising. We have a modified experience for viewers using ad blockers

Wikia is not accessible if you've made further modifications. Remove the custom ad blocker rule(s) and the page will load as expected.